The Niva brings you a clear and crisp sound signature, while still allowing the bass to pack a punch. Designed to repel external noise, the earbuds' 6.2 mm drivers power every note to fully immerse you in the music.
With its remarkably compact construction and 10m range, Niva lets you free the sound. This true wireless model features Bluetooth 4.2 technology and 3.5 hours of battery life, all without overlooking Sudio
's distinct minimalist style.
And while we're on the topic of style, Niva's charging case doubles as a contemporary design piece that can go anywhere you do for an additional 4 charges - bringing total play time to a whopping 17.5 hours. So whether you're out chasing adventure, or just moonwalking across the kitchen floor, do it without the wires.
BATTERY LIFE 17.5 hours of total play time. 3.5 hours of play time per charge + 4 additional charges in the PORTABLE CHARGING box
Earphones battery: 55mAh Case battery: 500 mAh BLUETOOTH VERSION: 4.2
RANGE: 10m DRIVER: Dynamic - Siri and Google Assistant function
IN THE BOX - Niva earphones with 3 pairs of sleeves - Owner's Manual & Quality Assurance Card - Portable Charging Case - Charging Cable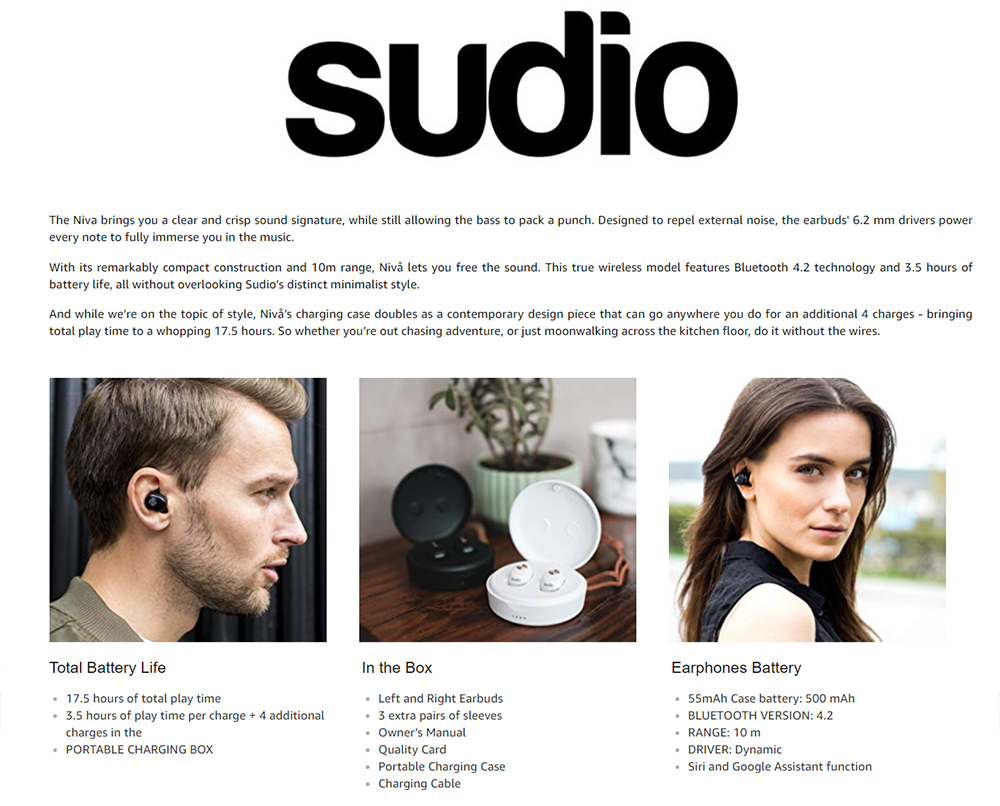 VIBRATIONS
Sound is vibrations which propagate through a medium - air. The objective of an earphone is to mimic the original vibrations that were generated when the piece of sound was recorded.
The most common mistake when taking on the challenge of reproducing sound is forgetting that it is a human who will be subjectively judging whether or not the sound is high fidelity. To understand the art of sound, one has to first study the psychoacoustics of the human species.
SOUND ENGINEERING
With the science of humans perception of sound as a background, one can start to make informative choices about how to maximize the user's sound experience.
At Sudio, we always start with defining the experience we want to achieve and from that, we create and refine the technical specifications corresponding to that experience.