Every day 400.000 pick pocket incidents occur worldwide. Never worry about this happening to you with the Bobby Anti-Theft backpack!
After the great success of the Bobby Backpack, we now proudly present the Bobby Compact. Your everyday backpack with key features as:
Hidden zipper closures & pockets
Anti-Cut Material
Integrated USB charging port
Matching Shopping tote
Integrated raincover
Illuminating safety stripes
Water repellent fabric
Weight balance
Luggage strap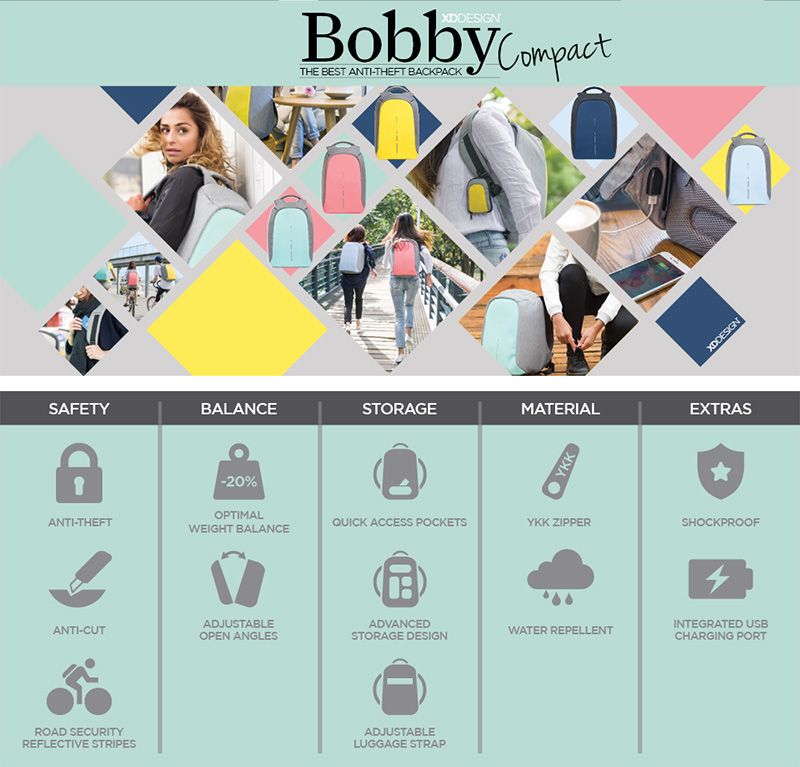 FAQWill my laptop fit?
The Bobby has a special pocket to keep your Laptop safe and secure during your travels. This pocket is big enough for all laptops up to 14"
Is there a powerbank included in the backpack?
No, the backpack will be delivered without the powerbank.
There is a simple connection inside the backpack that make sure that you can easily connect all powerbanks that are on the market (by USB plug)
This way the powerbank will never be outdated and you can keep using new models to charge your devices, because this backpack will last for years!
What is the output of the cable?
The cable has an output of 2.4A
What is the content of the backpack?
The Bobby backpack will hold 11L
What is the weight of the backpack?
The weight of the backpack empty is 820 gr.